(Back to TOP:jpn) (Back to TOP:eng) 650px
www.a-bombsurvivor.com/today@VOA.2020/No.940.following.records.html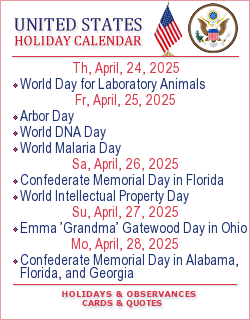 ?@ ! # $ % - _ "" & ~ 【】[]「」{} () ~ 『』() <> ,650px
| | |
| --- | --- |
| On This Day in American History | |
On May 26, 1868, President Andrew Johnson is acquitted during a Senate impeachment trial. The House of Representatives had found Johnson guilty of violating the Tenure in Office Act, which curbed presidential powers to remove cabinet members from office. The law was later found to be unconstitutional. Thirty-five senators found the president guilty, while 19 voted not guilty. That fell one vote short of the two-thirds majority needed to remove the president. Ten days earlier, Johnson narrowly survived another impeachment trial by the same vote. Johnson, a Democrat, was Republican president Abraham Lincoln's vice president and became president after Lincoln was assassinated.
| | |
| --- | --- |
| On This Day in American History | |
On May 22, 1849, future President Abraham Lincoln is issued a patent for an invention to lift boats over shoals and other obstructions in a river, making him the only U.S. president to ever hold a patent. The idea for the lift boat likely came to Lincoln after moving good by flatboat along the Mississippi River. This photo shows a patent model of Lincoln's invention, which was never actually built.
| | |
| --- | --- |
| On This Day in American History | |
On May 21, 1932, American Amelia Earhart becomes the first woman to fly solo across the Atlantic Ocean. Her original goal was to fly from Newfoundland to Paris in her single engine plane, partially emulating Charles Lindbergh's solo flight from New York to Paris five years earlier, but bad weather forced her to land in a pasture in Derry, Northern Ireland. The aviation pioneer set many records, but five years after the transatlantic flight, she disappeared over the Pacific Ocean while attempting to circumnavigate the globe. Neither remains nor wreckage was ever found.
| | |
| --- | --- |
| On This Day in American History | |
On May 20, 1873, a patent for denim work pants reinforced with rivets is issued to businessman Levi Strauss and tailor Jacob Davis. The pants have become what is perhaps the world's most popular trousers: blue jeans. Davis invented the "waist overalls," but lacked the funding to start a business, so he reached out to Strauss who'd become wealthy running a dry goods store in a booming California. By the 1880s, the demand for the work pants was so high that Strauss opened a factory to mass produce the product. The iconic 501 brand, known as XX until 1890, soon became a bestseller, and by 1920 "Levis" were the most popular work pants in the U.S.
| | |
| --- | --- |
| On This Day in American History | |
On May 19, 1964, U.S. officials disclose the discovery of more than 40 hidden microphones inside the U.S. Embassy in Moscow. The snooping devices, which were installed on floors where sensitive conversations were held, were likely to have been installed deep inside the walls when the embassy was leased to the U.S. in 1953. In response, the U.S. issued a strong protest to the Soviet government.
| | |
| --- | --- |
| On This Day in American History | |
On May 15, 1800, President John Adams orders the federal government to move from Philadelphia to Washington, D.C. The former officially stopped functioning as the nation's capital on June 11. At the time of the move, there were only around 125 federal employees. The young government's documents were all shipped to Washington via boat. Adams would not move to Washington until November as the White House was still under construction. Congress would move to Washington in November as well.
| | |
| --- | --- |
| On This Day in American History | |
On May 14, 1607, Jamestown, Virginia, is settled as an English colony, the first of its kind in the Americas, After a near economic collapse in 1610, settlers were able to make a profit exporting tobacco. Jamestown served as the capital of the Virginia Colony for 83 years, until 1699.
| | |
| --- | --- |
| On This Day in American History | |
On May 13, 1846, the United States Congress declares war on Mexico. At the center of the dispute was the U.S. annexation of Texas, which Mexico also claimed. After two years of fighting, the U.S. emerged victorious, leading to the signing of the Treaty of Guadalupe Hidalgo in 1848. The treaty made the Rio Grande the southern border of Texas and ceded vast swaths of formerly Mexican territory to the U.S., including some or all of Arizona, California, Colorado, Nevada, New Mexico, Utah and Wyoming.
| | |
| --- | --- |
| On This Day in American History | |
On May 12, 1932, aviation pioneer Charles Lindbergh's kidnapped baby is found dead. The baby was snatched from Lindbergh's mansion two months prior, capturing the attention of the entire country. Just five years prior to the kidnapping, Lindbergh was vaulted to national fame after completing the first solo transatlantic flight aboard The Spirit of St. Louis . In 1934, Bruno Hauptmann was arrested and later found guilty of the crime. He was executed in 1936. In response to the case, kidnapping was made a federal crime.
| | |
| --- | --- |
| On This Day in American History | |
On May 11, 1996, ValuJet Flight 592 crashes in the Florida Everglades on its way from Miami to Atlanta. All 110 people aboard were killed. An investigation determined improperly stored chemical oxygen generators being carried as cargo caused a fire that resulted in the fatal crash. The airline was already known for having a poor safety record and was shut down for several months after the crash. When passengers failed to return when it resumed service, the company changed its name to AirTran, which operated until 2014 when it was bought by Southwest Airlines.
| | |
| --- | --- |
| On This Day in American History | |
On May 8, 1945, the United States and Great Britain celebrate Victory in Europe Day, marking the defeat of Nazi Germany on the western front. On the eastern front, German and Soviet soldiers continued to skirmish as many Germans tried to flee to the west, so Russia celebrates the end of World War II on May 9. The war in the Pacific, however, raged on and would end on August 15, 1945. More than 80 million combatants and civilians lost their lives in the war that started in 1939.
| | |
| --- | --- |
| On This Day in American History | |
On May 7, 1901, famed actor Gary Cooper is born in Helena, Montana. Cooper's career spanned five decades, during which the actor won the Academy Award for Best Actor twice for his roles in Sergeant York (1941) and High Noon (1952). Cooper started his career as a cowboy extra in a silent Western. By 1929, he was making "talkie" movies, starting with The Virginian (1929). He was noted as the one of the top ten film personalities for 23 years straight and was one of the top paid actors for 18 years. Cooper died from cancer in 1961.
| | |
| --- | --- |
| On This Day in American History | |
On May 6, 2004, over 51 million Americans tune into the last episode of the sitcom, Friends . The wildly popular show centered on six young people and their lives in New York City. The cast featured several unknown actors—among them Jennifer Aniston, Matthew Perry and Lisa Kudrow—who would become household names. The show won six Emmy Awards during its 10-year run, and it is still aired in syndication in nearly 100 countries.
| | |
| --- | --- |
| On This Day in American History | |
On May 5, 1961, astronaut Allen B, Shepherd Jr. becomes the first American in space while aboard Freedom 7 . The Navy veteran's flight was suborbital and lasted only 15 minutes, but it restored faith in the American space program as it tried to catch up with the Soviet Union, which put a man in orbit less than a month earlier. Nearly a decade later, Shepherd would command Apollo 14 and become the fifth man to walk on the moon. Shepherd died in 1998 at the age of 74.
| | |
| --- | --- |
| On This Day in American History | |
On May 4, 1970, members of the Ohio National Guard open fire on unarmed protestors at Kent State University who were opposed to the U.S. bombing in Cambodia as part of the war in Vietnam. Four students were killed and 9 others were wounded. The tragedy helped fuel growing opposition and frustration with military action in Southeast Asia.
| | |
| --- | --- |
| On This Day in American History | |
On May 1, 1941 the landmark movie, Citizen Kane , is released. The movie, starring Orson Welles, who also co-wrote and produced it, chronicles the life of Charles Foster Kane, a character loosely based on newspaper magnates Joseph Pulitzer and William Randolph Hearst. It was Welles' first movie. While not a box office success, the movie was nominated for nine Academy Awards, winning for Best Writing (Original Screenplay). The movie was quickly forgotten, but interest in it was reignited in the mid-1950s, and it is now considered one of the greatest movies ever made.
| | |
| --- | --- |
| On This Day in American History | |
On April 30, 1927, the first federal prison for women opens in Alderson, West Virginia. The Federal Industrial Institution for Women was initially for women serving federal sentences of a year or more and was designed to focus on reform, not punishment. Some said it resembled a boarding school. Prisoners farmed, did office work, cooked and even learned to sing. Today, there are nearly 1,000 inmates, most of whom are convicted of non-violent or white-collar crimes. Some notable former inmates include singer Billie Holiday and lifestyle guru Martha Stewart.
| | |
| --- | --- |
| On This Day in American History | |
On April 29, 1992, a jury finds four Los Angeles police officers not guilty of using excessive force in the arrest of Rodney King, an African American, after a high-speed chase. King's arrest and beating was videotaped, and the gripping footage was aired around the world. The verdict inflamed the already tense African-American community and sparked six days of racial unrest. Sixty-three people died, and over 2,000 were injured. Damages were estimated to be over $1 billion.
| | |
| --- | --- |
| On This Day in American History | |
On April 28, 1967, boxer Muhammad Ali refuses to be inducted into the U.S. military, citing his Muslim religious beliefs. He was immediately stripped of his heavyweight title. When announcing his refusal, Ali famously said, "I ain't got no quarrel with those Vietcong." The boxing icon was convicted and sentenced to five years in prison and given a $10,000 fine. He was also banned from boxing for three years. He managed to stay out of prison through the appeal process, and in 1970, he returned to the ring. In 1971, his conviction was overturned by the U.S. Supreme Court.
| | |
| --- | --- |
| On This Day in American History | |
On April 27, 1822, President Ulysses S. Grant is born in Point Pleasant, Ohio. The son of a tanner, the 18th president had no interest in pursuing his father's career, so he went to West Point. After a stint in the military that included serving in the Mexican-American War, Grant was asked to resign due to alcohol abuse. He returned to Ohio where he failed as a farmer and land speculator. He finally took a job with his father. He returned to the Army with the outbreak of the Civil War and is credited with leading the Union's ultimate victory. A national hero, Grant ran for president in 1868 and won. He was re-elected in 1872, but his tenure was marred by widespread corruption. Grant died in 1885.
| | |
| --- | --- |
| On This Day in American History | |
On April 24, 1800, President John Adams establishes the Library of Congress using $5,000 appropriated by Congress. The first books were ordered from London and arrived in 1801. They were kept in the U.S. Capitol. In 1802, the library had 964 books and nine maps. During the War of 1812, the Capitol was burned down causing the loss of 3,000 books. In order to replace the loss, former President Thomas Jefferson sold his extensive library of nearly 6,500 volumes to Congress to rebuild the collection. Another fire in 1851 destroyed about two thirds of the then 55,000-volume library, including many of Jefferson's books. These losses were replaced within a few years. Today, the library has about 38 million books as well as photographs and recordings.
| | |
| --- | --- |
| On This Day in American History | |
On April 23, 1969, Sirhan Sirhan is sentenced to death for the assassination of Democratic presidential candidate Robert F. Kennedy. On June 5, 1968, Kennedy, who had just given a victory speech, was making his way from the ballroom of the Ambassador Hotel in Los Angeles toward the hotel kitchen when Sirhan shot him three times. Sirhan's death sentence was later reduced to life in 1972 when California abolished the death penalty. Sirhan, now 76, is currently incarcerated in a California prison.
| | |
| --- | --- |
| On This Day in American History | |
On April 22, 1994, former President Richard M. Nixon dies at age 81. The 37th president is most remembered for the Watergate scandal, which eventually led to his resignation early in his second term. Despite his reputation as a staunch anti-communist, Nixon's most lasting foreign policy achievement was opening relations between the U.S. and China. That led to a warming relationship with the Soviet Union known as détente. Domestically, Nixon worked to pass the 1969 National Environmental Policy Act, which created the Environmental Protection Agency, the Clean Water Act of 1972 and the Endangered Species Act of 1973.
| | |
| --- | --- |
| On This Day in American History | |
On April 20, 1986, Chicago Bulls basketball star Michael Jordan scores 63 points in a playoff game against the Boston Celtics. It remains the most points scored in a postseason game. Despite the performance, the Bulls lost in double overtime. The Celtics swept the Bulls in the three-game series and went on to win the NBA championship. Jordan would have to wait until 1991 to win the first of his six championships.
| | |
| --- | --- |
| On This Day in American History | |
On April 16, 2007, Virginia Tech student Seung Hui Cho begins a shooting rampage against his fellow students and faculty members, killing 32 and then turning a gun on himself. The shooting, one of the worst of all time, started when Cho killed two in a dormitory and fled the scene. He later went to a classroom building and opened fire for 10 minutes before killing himself. Police believe Cho, who had a history of mental illness, did not specifically target his victims.
| | |
| --- | --- |
| On This Day in American History | |
On April 17, 1970, Apollo 13 splashes down safely in the Pacific Ocean after the crew and NASA engineers surmounted what seemed like impossible odds in a story that captivated the entire planet. The mission started off well, but when the spacecraft was over 200,000 miles from Earth, an oxygen tank exploded during a routine check, all but crippling the spacecraft. NASA decided the best way back to earth was to slingshot around the moon. During the trip back, the crew of astronauts, James A. Lovell, John L. Swigert and Fred W. Haise, endured freezing temperatures, limited power, shortage of water and toxic levels of carbon dioxide. Many consider the safe return of Apollo 13 one of NASA's finest moments. The saga was made into a movie in 1995.
| | |
| --- | --- |
| On This Day in American History | |
On April 15, 2013, three are killed and over 260 are injured after two bombs detonate near the finish line of the Boston Marathon. After a massive four-day manhunt during which much of Boston was locked down, police arrested 19-year-old Dzhohkar Tsarnaev and killed his older brother, 26-year-old Tamerlan Tsarnaev, in a shootout. Police believed the crime was motivated by the brothers' extremist Islamic beliefs but do not think they were affiliated with any larger terrorist group. The younger brother was found guilty of 30 federal charges in July of 2015 and was sentenced to death. Tsarnaev is being held at a supermax prison in Colorado.
| | |
| --- | --- |
| On This Day in American History | |
On April 10, 1866, philanthropist and diplomat Henry Bergh founds the American Society for the Prevention of Cruelty to Animals. Bergh first became concerned for animals while serving as a diplomat in Russia where he saw peasants beating horses. On his way back from Russia, he stopped in England and visited the Royal Society for the Prevention of Cruelty to Animals in London in 1865 and was determined to create something similar in the U.S. Today, the group boasts well over one million members.